We strive to bring you the right track to fit your machine... and your budget!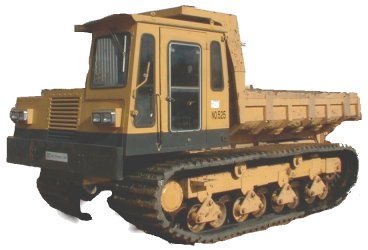 Rubbertrax Incorporated supplies tracks for almost any machine on the market. Our mission is to provide the highest quality rubber track for the lowest possible price. New track sizes are being produced each quarter. Continue to check the website for updates.
E-mail us to ask our rubber track specialists any technical or support questions you may have. These days the aftermarket tracks have come a long way. Enough research has been done that almost any common US based equipment can easily be replaced with little input from the customer, all we need is your make and model. Many machines come with options for the width of the track just depending on your needs. Some Bobcat® T190 users go with a sixteen inch wide track for more floatation, some stick with the thirteen inch wide to help load on smaller trailers and get into tighter spaces. The Bobcat® x331 mini excavators have the same type set up with a 320mm wide option versus a 300mm wide option. If you have questions or concerns about how you use your machine and how the rubber tracks effect your application, just let us know. Our team has been together for more than five years so we have the experience to navigate you through all the marketing confusion you see on the internet about replacement rubber tracks these days. We know we are not the cheapest place to buy a rubber track in the US market, but we have the experience to know that sometimes a low price is too good to be true in the long run. There are a lot of inferior rubber tracks on the market, and there are a lot of short-lived rubber track companies that don't honor the manufacturer's warranty fairly. Rubbertrax, Inc. has the knowledge and experience to know how to treat you and help your company save money in the long run on rubber tracks and undercarriage parts, a partnership built to last.

Our most frequently asked question is "How do I find my track size?" Most of the time we don't need to look for your size, just give us the make and model. There are several ways to find out which replacement track you need. First, check your existing track to see if the size is stamped into the rubber. It is usually very difficult to find the track size as it is common for the stamp to wear off during normal use. If you can't find a track size stamped into the rubber then you can take three simple measurements that will determine which replacement track you need.
Measure the width of the track in millimeters.
Measure the distance from the center of one link to the center of the next link (in millimeters). This is commonly known as the pitch of the track.
Count the number of links, or lugs all the way around the track
The measurement is read Width x Pitch x Links. There are about 2500 different types of machines on the market today. These machines use a wide variety of tracks sizes. Sprocket driven rubber tracks are put into two different classifications, conventional and interchangeable.

Conventional type rubber tracks can only be operated on undercarriages designed for rubber tracks only. Conventional type tracks have a pitch measurement (this is the distance from the center of one metal link to the center of the next metal link) of 60,72,84,86,87,90,100, 125 and 150 millimeters

Interchangeable type rubber tracks can be used on undercarriages designed to operate steel and rubber tracks. Interchangeable tracks can be made in a long pitch or short pitch style track. These tracks have pitch measurements of 48,96,52.5,54,55,56,71,72.5,73,81,81.5,83,83.5,109,142,144,146,163 and 167 millimeters. Some machines can have an even greater pitch measurement.

Many Bobcat® Track Loaders can have more than one track option. The Bobcat 864 may have a 12 inch wide track and it may have an 18 inch wide track. Measured in millimeters that is a 320 millimeter or a 450 millimeter. In addition to optional widths the Bobcat 864 may also have a different number of metal links depending on what tracks you currently have installed. Be sure to count the number of links carefully as it could range from 49 to 53 links. Given this information our staff can easily provide you with a quote online or over the phone. The Bobcat T-190 has a similar situation where it can have a different quantity of links depending on the setup. Be sure to double check your machine before requesting the rubber track quote.

What other details do you need to know when requesting a track quote? Well, there is a possibility that more than one tread pattern is available for your machine depending on your most common use. Track loaders are commonly used in a variety of environments so sometimes the tread pattern makes a difference in getting the job done. Discuss your daily job site requirements with our experienced staff and we can talk you through the advantages and disadvantages of a staggered block, a straight bar, a C-Pad and all the market variations in between. Mini excavator tread patterns don't vary quite as much because they are usually slower moving, short distance traveling types of jobs where specific traction and floatation aren't as much of a concern. Given the flexibility of the machine, usually if you can get close to the digging spot the machine can do the rest. Tread patterns for mini excavators do change from year to year as our factory strives for rubber track perfection. Always improving rubber compounds, tread patterns and thicknesses to provide the highest quality, most durable and cut resistant rubber track we can make.






Almost any machine you can imagine:

A.X.I.
ACES
AGRI
AICHI
AIRMAN
ALIVA
AMERICAN DIRECTIONAL DRILL
AMMANN
ANGEL
APAGEO
AROS
ATEX
ATLAS
ATLAS COPCO
ATN
AUSA
AVANT TECNO
BAMBY & Co
BARALDI
BARATTI
BASKET
BASTEI
BELLE
BENATI
BENFRA
BENNY
BERETTA
BERTANI
BITELLI
BIZAWA
BLACWOOD HODG
BM
BONNE ESPERANCE
BROKK
C.E.L.A.
CAMECA
CAMISA
CANAL SUD
CAPITAL
CARMIX
CARRIER
CASE
CASE (FERMEC)
CASE (KUBOTA)
CATERPILLAR
CATERPILLAR (CAT UK)
CATERPILLAR (SHIN CAT. MITSUBISHI)
CHIEFTAN
CHIEFTAN (BLACWOOD HODG)
CHIKUSUI
CHIKUSUI (IMER)
CLASS
CME
COMECA
COMET/IMECA
COMPAIR HOLMAN
CONSTRUZIONI ELLETRO
CORMIDI
DAEWOO
DALEN
DIMEX (ZTS)
DITCH WITCH
DODICH
DOMINE
DRAGO
DYNAPAC
ECKART
ECOMAT
EMCI
ENTECO
ETEC
EUROCAT
EUROCOMACH
EUROCOMACH (HINOWA)
EUROCOMACH (NAGANO or MITSUBISHI)
EUROCOMACH (NAGANO)
EUROCOMACH (NAGONA)
EURODIG
EUROTOM (NAGANO)
EUROTRAC (IMECA)
FAI
FDI SAMBRON
FERCAD
FERMEC
FORD
FRASTE
FRASTE (HINOWA)
FRESIA
FURUKAWA
G&D Italy
GEHL
GEHL (YGRY)
GEOTOOL
GRILLO
GRUNDODRILL (TRACTO-TECHNIK)
GRUNDOHIT
GRUNDOHIT (TRACTO-TECHNIK HINOWA)
HAINZL
HALLA
HANIX
HANIX (NAGANO)
HANIX (NISSAN)
HCC
HEMATEC
HINOWA
HITACHI
HOKUETSU
HOLMAC
HOLMAN
HOLMED
HONDA
HS PENTA
HUKI
HYDRAMAC
HYDRO RAIN
HYUNDAI
IBEA
IHI
IMEF
IMER
IMER (CHIKUSUI)
ISEKI
IWAFUJI
JCB
JCB (SUMITOMO)
JOHN DEERE
JOLLY MINICARRIER (HS PENTA)
JONYANG
KAIDI
KATO
KIT
KOBELCO
KOMATSU
KUBOTA
LEO
LIBRA
LINK-BELT/SUMITOMO
LMC
LUMESA
MACMOTER
MADRO
MAEDA
MAIT
MANITOU
MASSEY FERGUSON
MAWECO
MAXIMA
MBU
MELROE
MENZI MUCK
MESSERSI
MINI
MINICARRIER
MINIDIG
MINIMUSTANG
MINITRACK
MINITRACK (CHIKUSUI/CANYCOM)
MITSUBISHI
MOPAS
MOROOKA
MORRISH
MULAG
MULTIDRILL
NAGANO
NAVIGATOR
NEINL
NEUSON
NEUSSON
NEWHOLLAND (SCHAEFF)
NIHON FLEX
NIKO
NISSAN
NISSANHANIX
NOBELCO
NORDMEYER
NOVON
NOZAWA
O&K
O&K (MACMOTER)
O&K (SCHAEFF)
ORMAC
PALAZZANI
PAUS-HERMANN
PAVS
PAZZAGLIA
PENTA MOTER
PICCINI
POSI-TRACK
POWERFAB
PRESSOIL
RAPID
RENDERS
ROCK
ROSSI
ROTAIR
ROTOMAX (GEOTEC)
SACET
SAMBRON
SAMSUNG
SANDHURST MFG
SANDQUEEN UK
SATO
SATVIA
SCATTRACK (LIBRA)
SCHAEFF
SEDIDRIL
SHIN-TOA
SHOWA AIRCRAFT
SILLA
SILLA (IMEF)
SMC
SMC (NAGANO)
SMC (SANDHURST MFG)
SOMA
STENVICK
STRECK
SUMITOMO
TADANO
TAKEUCHI
TANAKA
TAYLOR CONST. PLANT
TCM
TECNIWELL
TEKNA
TERRA JET
TERRABOR (ATLAS COPCO)
TERRAMITE (IHI)
TEUPEN
THOMAS (NAGANO)
THORDAB
TOKYU
TRACK MARSHALL
TRACK STAR Mc ELROY (HINOWA)
TRAX (HINOWA)
TTUK Ltd
TZ
UNIMOV
UNKAUF
UPRIGHT
UTEX
VEDI ELENCO
VENIERI
VERMEER
VOLVO (PELJOB ECOMAT)
WALDOW
WINBULL
WIRTH
WORKPRO
YAMAGUCHI
YAMAGUCHI (WINBULL)
YAMAHA
YANMAR
YASHIMA
YGRY/AMCM/G&D Italia
YUCHAI
YUTANI
ZAVATTINI
ZEPPELIN
ZNTSIS BRZESKO
ZTS